Is Hospice A Permanent Choice?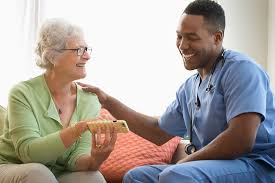 If kidneys are failing, for example, hospice may be chosen in lieu of dialysis. However, the decision can be reversed at any time. A few patients may make a recovery unexpectedly and thus discontinue such services.
Can I Stay In My Own Home?
Hospice has four levels of care. Two of these levels are done at home.
Routine Home Care: This is typically the most common level of care. It includes a nursing team and home health services.
Continuous Home Care: This is when the patient is in a crisis and around the clock nursing team is available.
General Inpatient Care: Here there is a short-term care plan where the pain and symptoms are managed without hospital settings.
Respite care: This is designed to give your caregiver a break and patients may enter a short-term care facility.
The options are determined by the needs of the patient. Many choose to remain at home where friends and family may freely visit. In fact, most patients select this option and a family friend or family member is the main caregiver.
There are also hospitals, hospice service centers, and nursing homes where hospice care is given as well.
You may wish to consider the options before making a decision.
How ill is the patient? How does the patient feel about remaining in their home? Can pain be managed out of a hospital or nursing home situation? Are family members and caregivers able to offer the emotional support required? Can the family and caregivers afford to cut back the time on their regular jobs? Will medical supplies be available?
This decision is a very personal decision and it's important to remember that each situation has its own set of concerns.
What Happens On Hospice?
The hospice team will come up with a care plan designed specifically for you. It will include as many of your wishes as possible and those of your family. The focus will be to alleviate as much pain as possible and managing daily life. They will check in on you on a regular basis and there is a team member that is available 24 hours a day every day of the year.
Doctors will give the medical advice and care and there will be nurses that check in on you as well. The aides will help in bathing, dressing, cooking, cleaning and other daily activities.
Other available services include:
Spiritual services
Counseling and social services
Medications for pain management
Medical supplies and equipment
Dietary advice
Physical therapy
Speech therapy
And counseling for loved ones and friends who are helping to care for the patient during this difficult time. It's important to remember that the goal of hospice isn't a cure, it's to manage the end-of-life time and focus on quality vs curing a medical condition that is typically terminal. Not all cases end in death, however, so it's important to not focus on death but rather comfort care and dealing with the situation at hand.